This page is to introduce flightseeing tours by Toho Air
Hakone Cruise
Our popular Hakone Ashinoko lake tour, also known as "Hakone Cruise!" features the grand panoramic view, looking over the Mt. Fuji on a sunny day. You will enjoy the spectacular view of Mt. Hakone from the sky. We will look forward to meeting you.
Mt. Fuji is in right front of the heliport. You will enjoy the dynamic Hakone , looking over the grand nature of Hakone from the sky.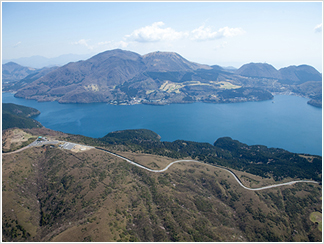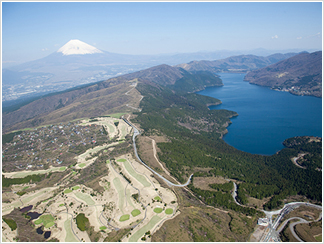 Flight Schedule 2019
* The flight schedules may change for weather and Aircraft reasons. Please contact us before coming .


8/10(Sat)-8/12(Mon) canceled.
10/12(Sat)-10/14(Mon)
11/2(Sat)-11/4(Mon)
12/31(Tue)-1/3(Fri)
Fare and Further Information
Fare:

Adult 4,000yen
Child 3,500yen

Flight Duration:

About 5min.

Information Desk:

Ashinoko Heliport
on the Ashinoko Skyline near the Rest House Fujiview
Live from the Lake Ashinoko!
You can see Mt. Fuji clearly on a sunny day! Check the weather here on the live broadcasting, come and enjoy the real view!
Access to Ashinoko-Heliport
From Tokyo and Odawara (35min, drive from "Hakone-Guchi" inter change Route 1 to Mishima, turn right at "Hakone-Touge".)
From Gotenba (drive from Gotenba inter change Route 138 via Hakone Skyline.)
From Mishima (30min, drive from Mishima station Route 1 to Odawara, turn left at "Hakone-Touge".)
Information
Toho Air Service *Weekday (Mon-Fri 9:00-17:30)
TEL : 03-3522-3031
Toho Air Ashinoko Heliport *Flight date(8:00-17:00)
TEL : 0460-83-7558