Your Reliable Partner
Mobility and reliability -- anytime, anywhere. The use of helicopters can be the best, workable option for operating in areas inaccessible from the ground, and excellent for transporting necessities and construction materials to offshore and mountainous terrain. The mission of Toho Air is to provide practical and effective support to various cooperative activities, according to the individual needs of our clients.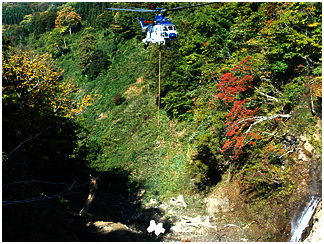 Delivery of 3t blocks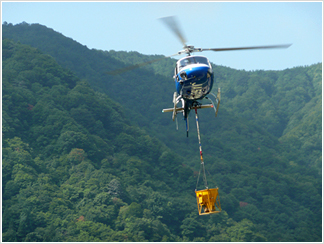 Delivery of ready-mixed concrete to construction site.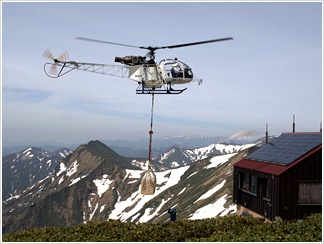 Mountain Delivery.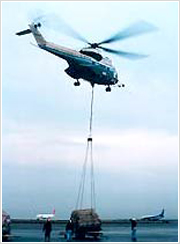 The Great Hanshin Earthquake Aid Delivery, Kansai International Airport
Pilot Loop Technique
When Toho Air participated in the construction of the world's longest steel suspension bridge, Akashi-Kaikyo Bridge, to deal with the rapid sea currents and boat traffic, we developed our own aerial construction technique called "pilot loop technique" and our "AS332L super puma helicopter" conducted the airborne construction on the sea. This highly advanced technology was also employed for the construction of the Kurushima Kaikyo Bridge, and other cable- stayed constructions. Toho Air will continue to promote further development in construction techniques.